Adventures Thru Wonderland
Friday, June 23, 2017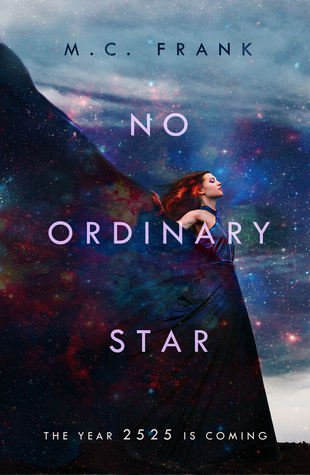 No Ordinary Star
by
M.C. Frank
My rating:
5 of 5 stars
I received a copy from the author in exchange for my honest review
A soldier is summoned to the North Pole, days before the year changes, told to fix the great Clock for a celebration. He has no idea what to do.
A girl, hunted for the crime of being born, almost dies out on the ice. She is rescued by the last polar bear left alive.
A library waits for them both, a library built over a span of a hundred years, forgotten in the basement of an ice shack.
The world hasn't known hunger or sickness in hundreds of years. It has also forgotten love and beauty.
The year is 2525.

Inspired by the short stories of Ray Bradbury, this futuristic novel is set in a world where Christmas -among other things- is obsolete and a Clock is what keeps the fragile balance of peace.

Written in three installments, this is the breathtaking and sensual story of how two unlikely people change the world, and each other, one book at a time.

Immerse yourself into the icy cold world of this scorching hot new novel.
Title
: Gossamer: The Chronicles of Eledon Book 3
Lady Alexin, Eledon's Keeper of the Keys must continue to prove her powers when her grandmother, Lady Lestin and her friend, Lady Opaline of the Gossamer Elves are kidnapped by rebels and held for ransom. Alex attempts a daring rescue, only to discover that there is far more to this plot that she immediately suspected and the betrayal extends to the highest levels of the High Council of Elders. Threatened by rebel factions, suspected by Council members and under attack by deadly spiders, the young warrior has only her wits, her fighting skills and the powers of the Keys to help her. But will they be enough to save them all?
Thursday, June 22, 2017
Date Published:
June 7, 2016
Publisher: Chamomile Books LLC
Micah Winters always knew that she was different. It was the pigment of her skin and the texture of her hair that revealed that she was a woman from biracial parents. For five decades, Micah's African American mother has remained silent about Micah's estranged father (Sidney Irving). It is not until after Sidney Irving's death that Micah learns that she is the daughter of the legendary novelist and screenwriter. Now with her mother's memory fading away from Alzheimer's disease, Micah can only rely on a novel that was written from her father years ago to understand her parents past during the time of segregation in the United States. Micah's once simple life is not so simple anymore as she tries to make sense of an unfamiliar world as she inherits her father's wealth and private past. With an abandoned heart, Micah must forgive the past in order to discover who she really is.
Review:
Micah always knew she was different. She was raised by her African-American mother and step-father. Having never known her biological father, the only thing the knew what that he was white.
I really enjoyed how this story was set up. Not often do I see bi-racial families, and especially where the women are African-American. While the ending felt a little weak, I enjoyed the story overall. I liked the characters, and seeing how Micah handled this new, unexpected change in her life.
Catherine Lavender is from Baltimore, Maryland but now resides in the sunshine state of Florida with her miniature schnauzer named Ripken. She is an animal activist, as well as a supporter of the organization First Book which helps supply literature for underprivileged children. In her spare time, Catherine enjoys reading classic literature and playing the acoustic guitar.
Purchase Links
Date Published:
20 June, 2017
Publisher: Carolina Blue Publishing
Katie Fitzgerald learned the hard way about love. She vowed to never get involved with a doctor at work, and when she did, he broke her heart. Older and wiser, Katie is serious about never getting hurt again. Dr. Flynn Reynolds, staff cardiologist at Windsor Falls Memorial, just might be the man to change her mind. Attraction explodes between the two from their very first meeting. But Katie is determined to protect her heart. Will Flynn convince her to take another chance?
Kimberley O'Malley is a recent transplant to Charlotte, North Carolina from the frozen North. She is learning to say y'all but draws the line at sweet tea. Sarcasm is an art form in her world. When not writing, she is a full-time nurse and part-time soccer Mom, but not necessarily in that order. She shares her life with an amazing husband of more than twenty years, two teenagers, and one very sweet Shetland Sheepdog, Molly.
Facebook: Author Kimberley O'Malley
Instagram: kimberleyomalley67